HEALTHCARE | TECHNOLOGY
Published on July 23, 2020
Optimizing Hospital Discharge with a FHIR App in Epic
How many times have you opened Gmail and Facebook today? What about O365 or G Suite for work? We are all used to modern applications that gather information from different sources and people in real-time. They offer great user experience on any device, whether it's your phone, tablet, laptop, or even smartwatch.

But the majority of the healthcare industry, which has a much more direct impact on our well being than Facebook, is still operating on outdated technology. HIPAA requirements, privacy concerns, bureaucracy, and expensive IT vendors are just some of the reasons why your doctor can't get information about your elderly parent or pregnant wife in a critical situation in real-time.

It's not just the patients who suffer due to a lack of timely data. A recent study shows that 40% of physician burnouts are attributable to problems accessing electronic health records (EHRs). Up until a few years ago, the situation was bleak.

However, with the Fast Healthcare Interoperability Resources (FHIR) standards by HL7 in March 2017, healthcare providers could use the same REST API principles that power Gmail, Facebook, O365, and G Suite. FHIR makes it possible to create modern mobile-ready applications with data accessible in real-time that looks and feels current.

In 2008, Steve Jobs unveiled the App Store that revolutionized how we use technology in our daily lives. Following in his footsteps, Epic Systems, one of the biggest EMR suppliers in the world, launched the App Orchard store in 2017. Now, healthcare IT teams can deploy and deliver new useful applications without outrageous costs.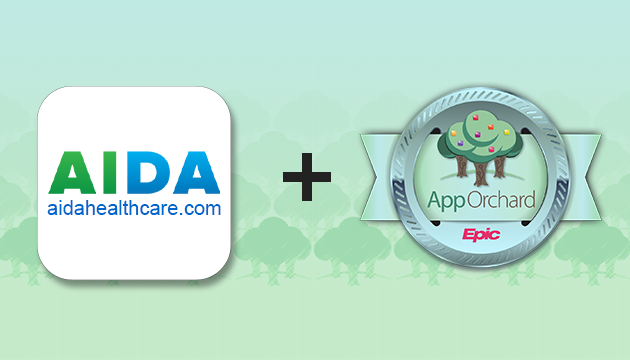 Itirra has used its expertise in developing sophisticated solutions in the healthcare industry to build an application that is now available in Epic's App Orchard. The incredibly user-friendly app was designed specifically for medical professionals with information coming from a connected ecosystem in real-time.
AIDA app for App Orchard
AIDA, the Artificial Intelligence Discharge Agent we developed, is a HIPAA compliant platform aimed to help patients, hospitals, and ACOs connect with post-acute care providers. AIDA Healthcare aims to simplify the complexity of the patient transition process so that case managers, patients, acute and post-acute providers can achieve clarity about each episode of care over time.

AIDA Healthcare app enabled Epic customers to use SSO for user authentication and access AIDA platform as an embedded interface within Epic. AIDA's app is the first to enable a file-less referral management workflow through Epic using APIs. With this application users are saving time by not having to upload or fax patient records into the platform. It had also increased standardization and reduced errors.

Enabling AIDA Healthcare to be embedded inside of Epic offered customers a more secure and efficient experience. Users can access all of AIDA Healthcare's tools and analytics without worrying about multiple web browsers. Everything about a patient can be accessed from one place within the Epic interface.

AIDA Healthcare app enables a 100% API-driven patient records management interface so that referral management can be further optimized. The app can monitor compliance with more complex value-based care policies through smart tools and enhanced real-time analytics dashboards.
Why FHIR?​
FHIR standardizes the exchange of healthcare data through a set of Resources, modular components that have the same names and provide primary pieces of information. Each Resource contains an easy to understand summary of patient's information such as clinical records, name, and gender.

It simplifies the exchange of healthcare information and promotes the use of APIs to support light-weight integration. FHIR facilitates secure data access and interoperability across the healthcare ecosystem accelerating time to market for digital services.

Apps developed according to FHIR standards not only improve user experience but security as well because they rely on modern authentication/authorization. One page responsive web application means providers and users can find the information they are looking for quickly and efficiently. Mobile applications powered by real-time secure data connection ensure that data is current for all users, which prevents mistakes and errors.

This leads to improved workflows, time savings, simplified adoption and training, and increased user satisfaction.


If you want to find out more or discuss how we can help your business during these uncertain times, contact us or schedule a meeting with our CEO, Michael.